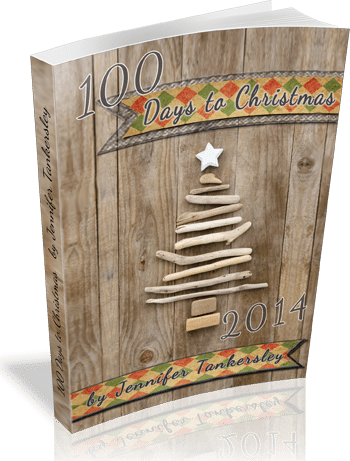 One way I have found to stay completely sane during the holidays … taking those 100 days leading up to Christmas to craft, shop, and make plans for the holiday season. It really makes for a more relaxing, less stressful, holiday time.
I know there are tasks that you can not complete until December and, there are always parties to attend and a last minute gift or two to purchase but, to have the bulk of the planning and purchasing done before December 1st is the best feeling in the world. It allows for a true Advent season where the focus is on Jesus.
So, today I am sharing with you a resource I started using five years ago … what a blessing it has been!! I love all the lists and those daily email reminders. 🙂 Join me this season and have the most relaxed holiday season ever!
Look at what all is included, for just $8:
This eBook is a journey that begins on September 16, and leads you day-by-day toward a peaceful and meaningful holiday season. This manual is 145 pages of holiday tips and ideas, reminders, and activity suggestions. Also included are calendars and a companion workbook of 31 lists from ListPlanIt.com for

holiday planning (including Halloween, Thanksgiving, and Christmas)
gift planning,
budgeting for the holidays,
holiday meal planning and preparation,
holiday party and event planning,
holiday details, such as cards, travel, gift wrap, stockings, and
more!

It is all you need to make this your best holiday season yet!