I know many of my friends probably laugh when I start counting down the days and planning for Christmas 100 days out but, for me it makes the Christmas season so much easier. It allows our family to really focus on the true meaning of the season when all the busy work (ordering Christmas cards, gathering gift ideas, shopping) has been done!
I have used the 100 Days to Christmas eBook for several years … I love all the planning lists. One of my biggest problems in the past with doing things in September or October was forgetting what I had finished or what still needed attention. One year I bought several gifts in September from American Girl for my daughter, during a great sale. I hid them as soon as the boxes came in … unfortunately, I hid them too well. Two days before Christmas I was still searching closets and attic spaces trying to figure out where I had stuffed them. And, those were big boxes … don't even get me started on stocking stuffers I pick up for the months leading up the Christmas. Having a binder with all my "to do's" has been a life saver. I even have a place on my "Gifts" checklist that I write where I placed the item – no more digging through closets trying to find my awesome hiding spots!
So, I have great news … for those of you who like to wait until around Thanksgiving to even think about Christmas there is a great new resource from the same people who made 100 Days to Christmas and recently I had the opportunity to preview a copy of 30 Days to Christmas – the Procrastinator's Guide. Just like the 100 Days to Christmas eBook, this book is full of checklists and ideas to make your Christmas season stress free!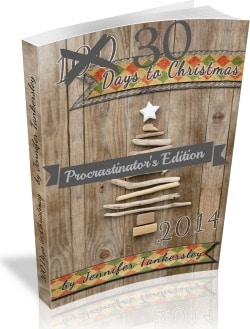 Just click on the book above and take a look! Look forward to counting down those 30 days to Christmas! What's a tip you have for Christmas planning?